Publication Order of Billionaire Bachelors Books
Publication Order of Rise Of The Dark Angel Books
Publication Order of Baby For The Billionaire Books
Publication Order of 7 Brides For 7 Brothers Books
Publication Order of Billionaire Aviators Books
Publication Order of Undercover Billionaire Books
In this ever changing publishing world where anyone can self-publish and become the next big thing, New York Times and USA Today Best selling Author, Melody Anne has curved a niche for herself as one of the leading Contemporary Romance writers of our time. Her work encompasses a wide range of different genres and she wrote for years as an aspiring writer before being published for the first time in 2011. She holds a Bachelors degree in Business which explains why most of her writing revolves around strong, powerful businessmen in the corporate world.
Having developed a passion for writing at a very young age, Melody Anne wrote her first book at the age of 10. It was a story about a handsome prince Charming who rescues his princess with the inevitable happily ever after ending.She continued to come up with stories, throughout her teenage years, although she never expected them to be published. In 2007, she completed her first manuscript. At the time, she had more then 100 manuscripts on her computer but never completed a single one. Ecstatic about her one complete manuscript, she continued to write in earnest and completed up to 5 books within a three year period. It was at this time that she started to think about possibly getting her work published.
Seeking to be Published: The Research Since she didnt understand the world of publishing at the time, Melody Anne decided to take some time to do research an find out how to be published successfully. What she discovered allowed her to publish most of her books with considerable success. She is one of the few authors who stays in touch with her readers, all of whom have direct access to her and her work. Her publishing strategy has worked so well that she has been in author bliss ever since and now writes full time. She has dedicated her life to providing her ardent readers with the stories they love. She constantly works on new materials with input ideas from her family, friends and fans.
Melody Anne values her family above all else. She has two children who along with five other kids that she adores, keep her constantly busy with school events and sporting activities. Her husbands support allows her to continue to come up with incredible books for her readers.
The first book in her now famous The Billionaire Bachelor series was released in 2011. In it her readers were introduced to the Anderson family; Joseph Anderson and his three sons, Lucas, Mark and Alex. This series follows the life of the three brothers and their significant others as they fall in love and give their father exactly what he wants; the first book, The Billionaire Wins the Game, readers meet Amy Harper who is handpicked by Joseph to be Lucas wife and mother of his children. She is however a very unlikely candidate for the job, at least at first. Amy, having been raised under tragic circumstances, is not particularly impressed by the pampered and rich. She has worked hard to finish her education and get a coveted position at the Anderson Corporation, working for the incredibly wealthy, stubborn and sexy Lucas Anderson.The attraction between the two is instant and very strong and when Amy becomes pregnant after one reckless night of passion, she is afraid Lucas will take her child. So tries to hide her condition from him. But when he finds out, he demands that she agrees to marry him. Initially, their relationship is rocky and although his father and brothers offer Amy all the support, her relationship with her husband is less than ideal. It is only after she runs away from him that Lucas discovers the strength of his love for her and they find their happily ever after.
In the next two books in this series, The Billionaires Dance and the Billionaire Falls, Melody Anne continues to forge a relationship between her readers and the Anderson Family. In the Billionaires Dance, Alex Anderson finds out he has a one year old son and demands that the boys mother, Jessica Sanders marry him immediately. The resultant relationship is equal parts fascinating and heartbreaking although in the end, they also find their happily ever after. In the third book, Mark finds love when Emily Jackson and her five year old son find their way to his ranch while running away from her abusive in-laws who want to take her son from her.The common denominator in these three stories is Joseph Andersons hand in successfully playing match-maker for all his sons. Even though his sons suspect that he had a hand in their marital bliss, his match-making skills are so good, they cannot find fault in the great lengths he has gone to, to ensure he gets his grandchildren. The series continues with Josephs twin brother George and his children making an appearance in the fourth book. The two brothers continue their match-making with Georges sons Trenton, Max and Austin and his daughter Bree all getting their happily ever afters in similar fashion.
This series has been so well received by Melody Anne fans that some suggested a continuation of the series. Based on her readers suggestion, she continued the series with Joseph and Georges long lost brother Richard Storm and his family. Her writing style and ability to bring all the family members together so seamlessly has enabled readers to look forward to the next release with increased anticipation.As the more books join the series, readers get the sense of growing with the family. They get to know the children as the children meet their cousins and grandparents. The readers get to see and experience the childrens growth and how the family responds when a new family member is born. Unlike other series, the original characters in the first book, dont get lost as you read the next book. Melody Anne is able to give you an update of Amy and Lucas life even in the most recent book in the series. This way readers feel like they actually know the Anderson family. To date, the series remains her most successful and well recieved work.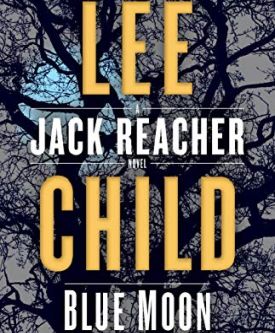 Jack Reacher is back! The latest book in this extremely popular series, calledBlue Moon, arrives on bookshelves on October 29th. All Jack wants is to help an old couple and suddenly he is in the middle of a brutal gang war. Yep that sounds like Reacher. Lee Child has been killing it lately so hopefully that continues.Pre-Order now.
The links beside each book title will take you to Amazon, who I feel are the best online retailer for books where you can read more about the book, or purchase it. Please note that as an Amazon Associate, I earn money from qualifying purchases.
RecommendationsEvery 2 weeks we send out an e-mail with 6-8 Book Recommendations. Well base this on various factors for example If you like Jack Reacher… or If you like short stories in the horror genre. Insert your e-mail below to start getting these recommendations.(See All Past Recommendations)
I do my best to make sure the book lists are complete and current, but due to human or machine error while attempting to keep 3000+ authors up to date, the occasional book can be missed or will be listed under an alternate title. If you see one missing just send me an e-mail below. Thanks!
you need to read the Peter Ash series by Nick Petrie. Endorsed by Lee Child himself, this is a fantastic book series and is the best recommendation I can give for any fans of Reacher.More details.

If youre a fan of standalone thrillersthen be sure to read any of the standalones byBrad Parks. The guy is a master! Ive read over 50 different authors of standalone thrillers in the last year and no-one stands out like Brad.More Details.

AlthoughAnne Ricesbirth name was Howard Allen OBrien, she chose the name Anne when she entered the first grade at St. Alphonsus Grammar School

Any authors or characters were missing that we should add? Let us know – were continually adding new authors and characters daily.